Capitol Villa Apartments in East Lansing are within walking distance to Michigan State University. Our communities offer apartments, duplexes and houses where you can experience a social life fit for Spartans. Students who live off-campus with friends have more fun, sleep less and have more Instagram-able experiences (we can't remember what study it was, but it sounded super official.) Interested in seeing more options? Check out other apartments in East Lansing near Michigan State University.
Our 1 bedrooms are sold out!
We DO have extremely limited availability in our 2 bedrooms and some By-The-Bed / Individual Lease options. Contact our office so we can help you find what you're looking for before it's too late!
www.capitolvillaapartments.com/contactus.aspx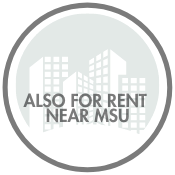 ---